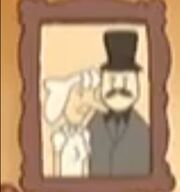 The Seven Little Monsters have a father, however he is never actually seen on screen. There was an episode where Mom told Two that he reminded her so much of his dad.
Appearance
Edit
Even though Daddy is never seen in the show, there is in one episode "A Clean Sweep" when the monsters heard a noise coming from their mother's room, a photo can be seen behind Mom of her and her husband. The photo is seen in another episode but it's a little fuzzy to make out.
In the reboot, however, he will be seen. He will be voiced by Khary Payton and is six feet taller than their Mama, while the monsters are still 10 feet tall. At times, he will tend to be a strict parent using his common catchphrase, "I SHOULDN'T HAVE TO SCREAM MORE THAN ONCE!!!!!!!" At other times, he will be smart, funny, fair and likes to flirt with Six and Mary. He'll even call any monster babe.
There is no explanation of Daddy in the show, nor is it ever explained if he is alive or dead, so it is a mystery of where he is. However, in "Good Morning" and "The Mystery of the Missing Five" she says of how Two and his nose reminds her Daddy.
Community content is available under
CC-BY-SA
unless otherwise noted.